News of the Week
Destination Outdoors: Fort Cobb Lake
Bordering the north end of Fort Cobb Reservoir, the Fort Cobb Wildlife Management Area (WMA) encompasses 3,500 acres of post oak, blackjack oak, and native mixed grasses. Just a short drive from Oklahoma City, Fort Cobb WMA and Fort Cobb Reservoir are among the most popular hunting and fishing locations in Oklahoma.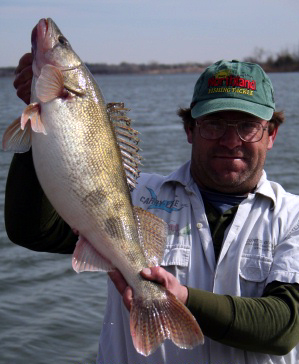 The state record saugeye was caught at
Fort Cobb Lake on Feb. 24, 2006.
Fort Cobb's fishery is among the best in the southwestern portion of the state. Healthy populations of saugeye, walleye, largemouth bass, striped bass hybrid, white bass, crappie, flathead catfish and blue catfish offer anglers of any age or expertise plenty of year-round opportunity.
For many, spending time outdoors during Oklahoma's second-coldest month seems unbearable. However, for anglers in need of a good challenge, February is prime time for saugeye fishing, and Fort Cobb is a prime location.
In February, saugeye are usually found in 8 to 15 feet of water, nearunderwater points, drop offs and humps. Saugeye are light sensitive and stay near the bottom.
A bonus to saugeye fishing in southwestern Oklahoma is the wind. Moderate wind is excellent for saugeye fishing, and Fort Cobb doesn't run short of windy days. Wind muddies the waters and doesn't allow light to penetrate. Fishing is usually better at dawn and dusk or on overcast days.
There is boating access at Sunset Cove Marina. Anglers who don't have access to a boat should try bank fishing from the south dam. Using a slip cork in about 15 feet of water could yield successful results. Fort Cobb has a six-combined daily limit of walleye, sauger or saugeye with a 14-inch minimum. For more information and regulations, consult the "Oklahoma Fishing" regulations guide.
Fisheries biologist Ryan Ryswyk gives tips for saugeye fishing Fort Cobb Lake.